Officers from Knowsley Police were joined by partner agencies today in order to conduct checks on the licensed premises within the borough. Thanks to Merseyside Fire and Rescue,  the Security Industry Authority (SIA) who regulate door supervisors,  Acumen Investigation Services who regulate the broadcasting of Sports via different media, British Gas, Knowsley Licensing Team and the Environmental Health Team who helped to ensure that regulations are adhered to in order to ensure the safety of those who like the occasional pint?.
It was interesting to see the different agencies conduct their role in identifying that; two premises were in no fit state to serve food and subsequently prohibited until H&S matters have been rectified, two premises required Fire Safety regulations to be adhered to, two premises had dangerously tampered gas meters and as such their supply disconnected.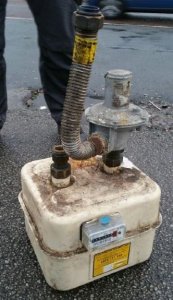 Furthermore, one premise had been showing live football matches without an appropriate licence/subscription and two premises had been using unlicensed door supervisors. All of these matters will be progressed by the appropriate regulating body,
Do not use unlicensed guards, call proguard !! all our guards are licenced
.